Our Cement Enterprises Take Following Measures for Epidemic Prevention and Work Resumption
We faced the difficulties and worked hard, focusing on epidemic prevention and work resumption at the same time. Today, we share with you the practices of four cement enterprises.
I. CUCC did 10 must-do works and formulated management measures
CUCC strictly implemented a series of regulations and requirements of China National Building Material Group and local governments at all levels on epidemic prevention and work resumption, actively took effective measures, printed and distributed the Management Measures on Work Resumption, formulated measures to respond to the epidemic and ensure work resumption, and the approval process for work resumption, and organized epidemic prevention and work resumption.
Enterprises that want to resume work shall do 10 must-do things, involving the organization and leadership of epidemic prevention and control, health check of production personnel, provision of epidemic prevention and control materials, temperature measurement of all staff on duty and wear of prevention and control equipment, contact control of personnel in working, catering and other places, control of outsiders, regular disinfection of workplace and key sites, transmission of knowledge on epidemic prevention and control, emergency response of local governments, and report on epidemic prevention and control information.
II. South Cement Company Limited made early deployment, took quick action and conducted coordinated disposal
Effective closed-loop management: Since January 29, South Cement Company Limited has organized six special teleconferences, supervising enterprises at all levels and business systems to rapidly promote epidemic prevention and production and operation in the cycle of "information collection, collective decision-making, specific implementation and twice feedback", and forming a closed management loop.
One person, one file: South Cement Company Limited established a daily registration system of "one person, one file" for employees and outsourcing personnel, accurately grasped the information of employees' travel, contacts and health status, and took timely follow-up measures such as isolation and return persuasion. Teleconference, WeChat, SMS and other forms were used to publicize epidemic prevention knowledge to every employee.
Hazardous waste treatment: South Cement Company Limited continued to dispose solid and hazardous wastes in three production lines, actively fulfilled its social responsibility and contributed to environmental protection.
III. Sinoma Cement in Guangdong Area resumed work in batches and employees worked in three shifts in four groups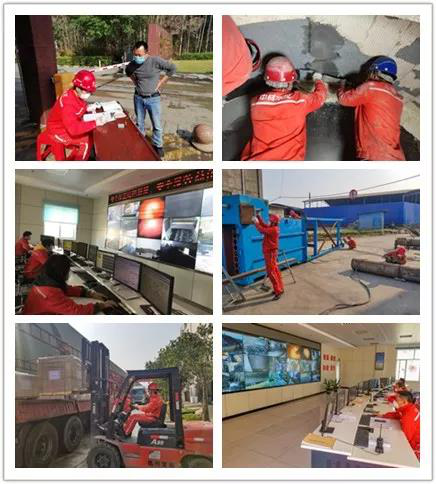 (I) Sinoma Tianshan (Yunfu) Cement Co., Ltd
With the approval of the local government, employees of the company returned to work in an orderly manner in batches. Workshop employees worked in three shifts in four groups to ensure normal production.
(II) Sinoma Luoding
The company regularly disinfected public places, tested and recorded the temperature of all staff, and implemented staggered dining in the canteen. Employees at production site worked in three shifts in four groups. A temporary isolation site was built for outsourcing personnel from other places, and the 14-day isolation requirement was strictly implemented.
IV. Qilianshan Cement carried out special studies and vigorously resumed production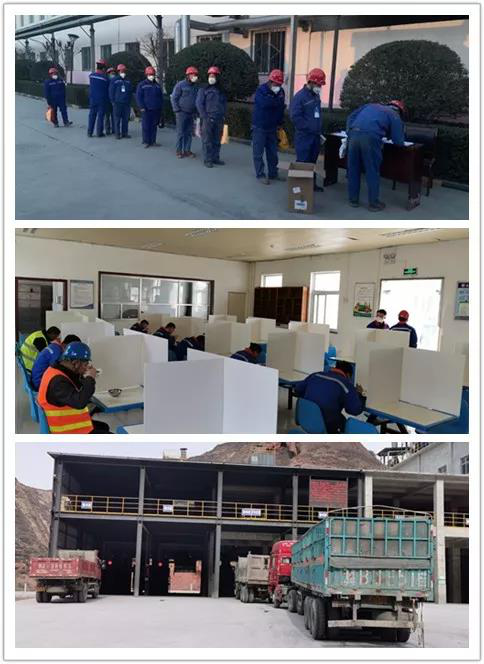 Making plans: Qilianshan Cement carried out special studies on the work resumption, made a detailed work resumption plan, and promoted companies that have completed repairs and have not stopped production to resume production.
Overcoming difficulties: Each subsidiary overcame difficulties such as shortage of raw materials for production, poor transportation of products, difficulty in controlling the personnel that pick up goods in plant, and shortage of anti-epidemic materials to coordinate and promote the resumption of production. Each subsidiary distributed medical masks, disinfectant and other anti-epidemic materials to all the staff on duty. Employees are required to wear masks to work. Each subsidiary continuously disinfected and sterilized the key areas where activities are concentrated in the plant. When employees ate in the canteen, one table for one person.
The resumption of production has stabilized the enterprise's efficiency and staff, and maintained the orderly connection of the production chain of the whole building materials industry. We believe that as long as we have firm confidence, withstand the pressure and redouble our efforts, we will be able to minimize the adverse impact of the epidemic and make positive contributions to the stable development of economy and society.